Seller Financing Program
What is seller financing:
With seller financing, the seller doesn't hand over any money to the buyer as a mortgage lender would. Instead, the seller extends enough credit to the buyer to cover the purchase price of the home, less any down payment, and then the buyer makes regular payments directly to the seller instead of a bank or mortgage company. It is up to the seller whether to extend credit to the borrower – no banks involved.
Why use "U-PICK seller financing"?
Only 2% of homes listed for sale in the Phoenix MLS are offering seller financing. That means 98% of homes for sale are NOT offering seller financing.
Our U-pick program allows buyers who need seller financing to purchase ANY home for sale – opening up seller financing from 2% to 100% of homes for sale!
Buy the home of your choice - you pick the home! - We provide the financing.
Choose any home listed for sale in the MLS (bank owned, short sale, traditional sale).
We will purchase home you choose and sell to you with seller financing.
The price of the home is increased based on the purchase price you choose.
---
Get Signed up for the U-Pick Program Today
First: Get Pre-Qualified
Our program is not credit driven or income driven, but we need to verify you can afford the payments. We can still qualify with credit issues or income documentation issues.
Complete our online application here or contact us and we will help you get started: 480-626-1360 or 602-647-6905.
Second: Sign an Agreement to Terms
We will send the agreement to terms to you upon approval of your application. The agreement to terms provides a written agreement stating we will provide financing based on the terms selected during approval process.
Third: Determine Increase in Price Based on Desired Purchase Price
For homes with purchase price of $300,000 - $750,000
30 year fixed with 7-year term = 10% increase in price.
For homes with purchase price of $150,000 - $299,999
30 year fixed with 7-year term = 15% increase in price
For homes with purchase price of $100,000 - $149,999
30 year fixed with 7-year term = 20% increase in price
*Call for homes above $600,000 or below $100,000. (all loans based on 30-year amortization with balloon due at end of selected term)
Fourth: Select Your Down Payment
Our U-PICK seller financing program is designed for a 20% buyer down payment. We will provide financing of 80% of the home's sales price to you.
We will provide up to a 10% down payment assistance loan for borrowers who can afford to pay off this down payment assistance loan over a short time period of between one and 10 years.
This allows qualified buyers to purchase a home through our U-pick seller financing program with as little as 10% down, plus closing costs.
Finally: Find Your New Home!
Work through our Realtor or yours*. We are here to help guide you through the path to homeownership, we can create custom property lists based on your preferences and share them with you through your account page.
Use our "U-Pick Home Search" tool to help you discover the home you've been dreaming for.
*We cooperate with real estate agents from other companies provided they agree to our program terms and guidelines. Have your real estate agent contact us to become an approved Realtor.
---
How The Program Works
First, get pre-approved for the program and agree to the financing terms.
We will review your application for program eligibility. The program is not credit score driven. It is based on your ability to afford the payments.
You select any home for sale (bank owned, short sale, foreclosure, traditional MLS listing). We assign an approved real estate agent to work with you just like a traditional real estate agent would - sending you listings, searches, showing you properties, etc. You can also use your real estate agent provided they agree to the terms of our program.
When you find the home you like, we buy the home in our name - for the best price possible (with any savings passed on to you). You determine our offer price with our assistance.
You complete all inspections, so you are satisfied with the condition of the home.
We then sell the home you chose to you with seller financing based on the following terms:
10% or greater down payment from you.
Our financing with interest rates starting at 6.5% interest.
Closing occurs through a traditional title company.
Independent account servicing company collects payments from you on a monthly basis.
You get the tax benefits.
Buy ANY HOME FOR SALE in the MLS with NO bank qualifying!
Use the chart below to determine your interest rate based on the down payment to purchase a home with our U-pick seller financing program.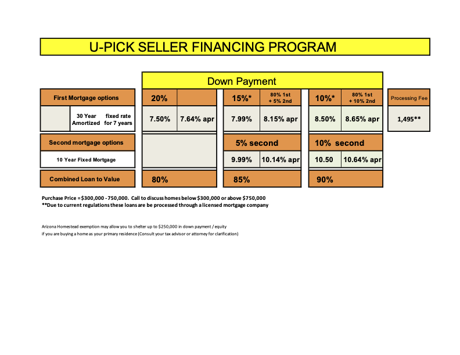 Ready to find a home? Contact an agent today to get started with a custom search.
Contact Us
---
×